Omniscient Point of View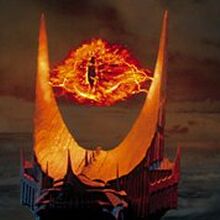 This is the big picture view of the story. When the camera has been pulled way back to show you the entire scene on the screen. I like to think of the omniscient narrator as the all-seeing eye from The Lord of the Rings. They know all and see all. In movies, the director will use this a lot in battle scenes, so you can see everything at once. Battles can be viewed from the first person POV or a larger view. You can write the one on one or the entire scene playing out all at once. It is up to you based on the narration you use.
I am the all-seeing eye on this page. I see you and your empty cuppa. Please, follow me to the kitchen/breakroom for a refill and some nibbles. I would never leave a guest with an empty tummy or cuppa. That would be rude and if Sheldon taught me anything it is to offer someone a beverage when they visit. As for the nibbles, I do believe there are some brownies left in the cabinet next to the refrigerator. As before, I am going strong on my diet and will pass on the yummies. I will get out our reading rug and my copy of The Novel Writer's Toolkit by Bob Mayer. I will meet you on the bottom of page 115.
Third Person–vs–Omniscient
It is easy to confuse the two. Omniscient works well for expository information that would be cumbersome in third person. When you want to go deeper into your character, their reactions, or thoughts, third person works best. Omniscient is less in the character's head and more of a general view of things.
Expository– of the nature of exposition; exposition; serving to expound, set forth, or explain: an expository essay; expository writing.
The quick breakdown is:
Third person= in the character's head
Omniscient= all knowing, all seeing
It's All in a Mix
Mixing POVs in the Same Novel
Yes, it can be done. It is all about smoothness. Start with one POV and carry it for a while and then shift to another. If you can go from first person to first person you can shift to third. Think it through. Make sure it will work best for the story you are telling then go for it. This is your novel after all.
Think of it like a camera, again. When a director films a scene of two or more people having a conversation, who does the camera focus on? The person talking or the person/people listening? It's both. Not only do you want the view of who is saying what but the view of how the listener(s) are reacting.
The options are endless!
*****
I know. This one is short, but we all know there is more to come. Until then…
Please remember that I am not trying to write this book for you word for word. I am skipping a lot of detail. I highly suggest you purchase the book and read between the lines.
Polish your sparkle and keep twirling.
Find joy. Be joy. Enjoy.
I'm always looking for new friends!
Like Follow Share
I follow back!
Twitter: https://twitter.com/TiciaRani
Twitter: https://twitter.com/WarrentNella
Facebook: https://www.facebook.com/Nella-Warrent-1863744137235991/?ref=bookmarks
LinkedIn: https://www.linkedin.com/in/ticia-metheney-22181476/
Amazon: https://www.amazon.com/B-TCH-UARY-Ticia-Rani-ebook/dp/B07NCG46BX/ref=sr_1_1?keywords=ticia+rani&qid=1573745735&sr=8-1
Instagram: https://www.instagram.com/nellawarrent/
Goodreads: https://www.goodreads.com/author/show/18848350.Ticia_Rani
Universal Code for O-B*tch-uary: https://books2read.com/u/bOZe8o
Universal Code for Sin Full: http://books2read.com/u/m2Vdqd
Amazon: https://www.amazon.com/Sin-Full-Nella-Warrent/dp/B0858V1PY2/ref=sr_1_fkmr0_2?keywords=sinful+nella+warrent&qid=1583163265&sr=8-2-fkmr0
Author Page: amazon.com/author/nellawarrent