Are you a couch potato? Have you sprouted vines between yourself and the remote? That's okay. You can still reap the benefits of exercise even if your tush looks like a cushion. All you have to do is get up. Really- just get up. Go for a small walk. Not only will it benefit our heart, body, and family life, but it will also vastly improve your brain activity. Thirty minutes two to three times a week will bring with it improvement into your daily life.
Pssst…another AWESOME side-effect…A much better mood and higher attention levels.
I am writing about exercise and all its benefits as I
nibble on nuts and drink coffee (LOL). I am a fairly active person even with my back issues. I attempt to go to the gym three+ times per week. I used to go more but it would take far too much time to recover after pushing it. That is why I agree with the 30 mins, two to three times per week. A little goes a long way. Just as a little extra in your cuppa and some nibbles will make reading with us much more enjoyable. I'll wait as you get ready and find your copy of Around the Writer's Block by Rosanne Bane. I am on page 104. Let's tuck in and enjoy the wisdom we will gain.
When we think of "working out" we tend to picture puddles of sweat and loud grunting followed by dropping weights. That image can be true, but it is not what we are looking for. We, as writers and creative peoples are looking for more aerobic activities. If you want to be the sweaty grunty person, that is fine as well, but you will be less likely to access the creative centers of the brain during your time in the gym. The harder the workout the less you can drift into the dark recesses of your brain. That does not mean it doesn't work. Once your workout is through and you are relaxing afterwards, your creative thoughts will significantly increase.
Slow and steady. Get on a treadmill or elliptical or a recumbent bike and wander off into your mind. You are far more likely to find that inspiring image you have been hunting for. It is not uncommon to find someone reading while walking on a treadmill or riding a stationary bike. Their minds can be just as active as their bodies. A leisurely walk can do wonders for your story line.
The brain and body reap different benefits depending on the intensity of your exercise. It is best to mix moderate and low intensity activity with the occasional high-intensity grumbly, sweaty, grunting level of activity. You know, the level where you lay out flat on
the floor after and curse the universe and gravity for forcing you to feel the pain you are in. No? Maybe that's just me.
Challenge yourself. You will benefit from all levels of activity. I tend to work from high to low. For example: Monday- high, Tuesday-moderate, Wednesday-low, and then I take off Thursday for recovery. Switch it up. Muscle confusion is a good thing for your body and your mind. Keep both active during your workout. The lower intensities will allow creative thought, where the high intensity levels build cognitive connections. To make life a bit more interesting- take it outside. Put yourself and your mind in a different environment. Stimulate different areas of the brain.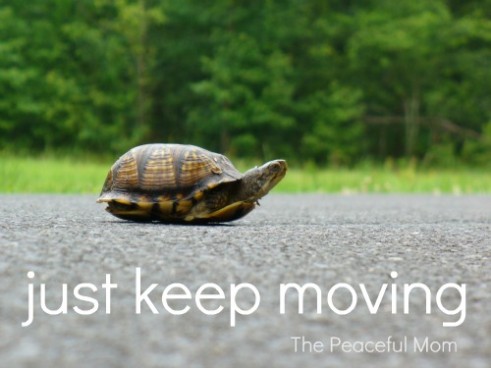 Start small and just keep moving.
Turtles are sooooo cute!