Now that you know you shouldn't dress like Bo Bo the Clown- unless you are Bo Bo the Clown- now what? First- clowns are creepy and wrong and nightmare inducing. Eeeeek! Just writing that gave me chills.
Anyway, now you need to figure out if what works for you works for the company you work for. Not everyone is cool with Boho skirts and fringe.
Some places actually have a dress code written into their company handbook. You need to dress the part…not for the job you have but for the job you want.
You guessed it; I am back with another installment from Personal Branding for Dummies (A Wiley Brand). So, grab your copy, a cuppa happiness, and some nibbles and let's get started.
So, I left you hanging with the line- dress for the job you want. I'm not saying dress like the CEO, but you can dress for the position above the one you currently hold. If you are in the mailroom and can wear jeans and polos, step it up to Khakis and button downs. A simple change can cause a bigger change in your life. The three-piece suits and Louis Vuitton shoes will come later.
The book offers some guidelines to follow based on what you want your image to say about you. These suggestions were provided by Judith Rasband at the Conselle Institute of Image Management.
Let's take a look!
1. Serious, authoritative, distant, and demanding
If this is the look you are going for then:
Men- should wear straight lines in dark or dull colors, long sleeves, small to medium patterned tie and conservative accessories.
Women- should wear the female version of the male attire.
Blah- I guess I will never hold a position of absolute authority cuz…BLAH. But if that is your goal- you be you and I will be me.
2. Energetic, fun, friendly, and outgoing

If this is the look you are going for then:
Men- should wear curved lines with brighter colors, knits, plaids, prints, and softer fabrics. Loose fits, polos, Henley, open collars, and more casual accessories.
Women- should wear curved lines, bright colors, pleats, small floral patterns, and polka dots. The fabrics can be softer and flowy, with soft tailoring. Casual and larger jewelry and accessories.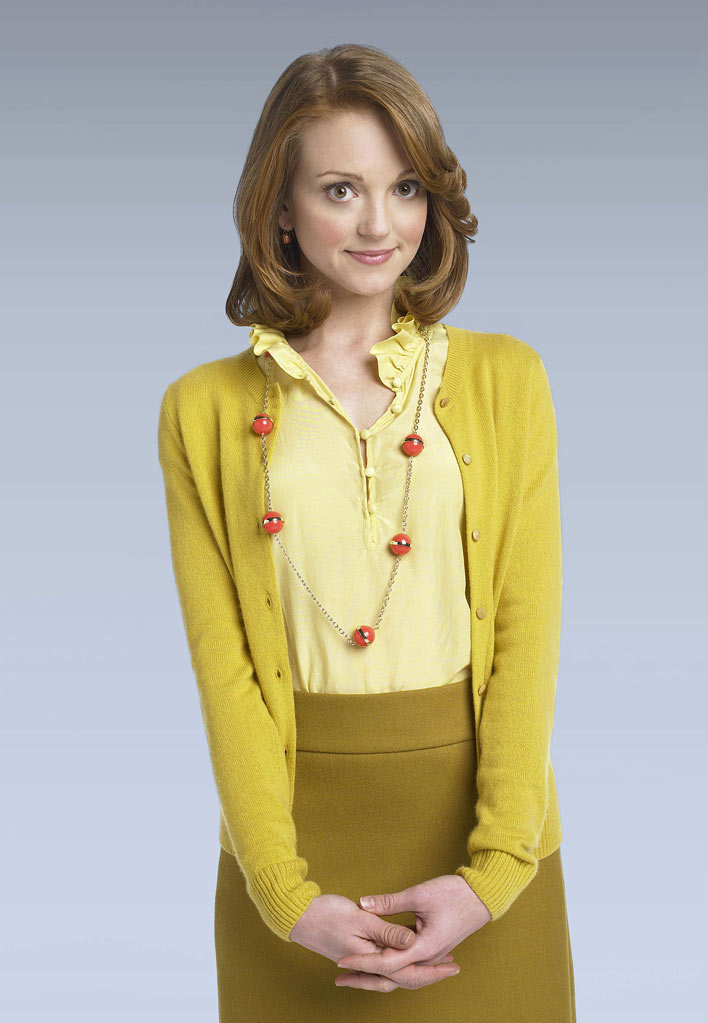 3. Calm, quiet, and supportive
If this is the look you are going for then:
Men- should wear solid colors with subtle contrasting colors, small patterns, soft tailoring, natural shoulder lines, and simple but sophisticated accessories.
Women- should also wear solid colors, subtle contrasting colors, small floral prints, delicate sheer fabrics, fitted styles, soft flair and small delicate jewelry.
<– EMMA PILLSBURY
I don't know where you fit into this whirlwind of fashion but I'm a mix, or blend, if you will, of all of the above. But being quirky and creative allows that.
The best way to explain this is the show GLEE. Outfit choice #1 would be Principle Figgins. The attire of authority (even though he wasn't). Attire choice #2 would be Mr. Schuester. The man who wants to be everyone's friend, and #3 would be Emma Pillsbury. She wants to be caring and supportive to everyone in the school.
Just remember there was no outfit choice for a bully. Sue Sylvester does not earn a slot on brand building through clothing. Don't be a bully.
Alrighty, boys, girls and all other pronouns out there- I hope this was helpful. If not, I hope it made you chuckle.
Until our next lesson…
Polish your sparkle and just keep twirling.
Find joy. Be joy. Enjoy.
I'm always looking for new friends!😊
Follow->Like->Share->
Other places you can find me:
Twitter: https://twitter.com/TiciaRani
Facebook: https://www.facebook.com/Nella-Warrent-1863744137235991/
LinkedIn: https://www.linkedin.com/in/ticia-metheney-22181476/
Amazon: amazon.com/author/ticiarani
books2read.com/u/bOZe8o
** I wanted to take a moment to thank everyone that has helped support me in the journey of becoming and author. It has been wonderful and joyous and CrAzY! Just know, more books are coming…I swear.