*Weekends 5 -10*
Scene Building
We now have created our characters, put some clothes on them, and given them an idea of self. They are waiting in the wings to make their entrance into your writing journey. You did it. You created a cast of multileveled characters with a back story, friends, jobs, and weaknesses that only you know. They are almost human.
A scene is a single action or a series of connected actions taking place in a single setting in a finite period of time. In simple terms. If your characters leave one room and go into another, consider that a scene change. You have taken them out of the original setting and put them somewhere else. If you do a time shift- remembering or flash backs or even time travel- that is a scene change. A scene falls within a certain space and time. Moving your characters out of this bubble changes the dynamic.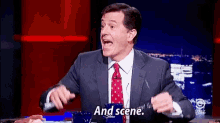 *And…Scene*
Hi, how are ya? What is going on in your tiny, little quarantine space? Have you cleaned your entire home yet? I have. I moved on to reorganizing all my Christmas ornaments. Yeah, I went there. I started with the surface of my home and now I'm deep digging for things to do. And…did you know if you sit long enough you develop flat spots on your butt? Really. I never thought I would say it but…I WANT to do squats.
Let's do our thing. Go get your fresh cuppa and maybe skip the nibble today. I'm worried about the flat spots on all our butts. I will unroll the reading rug and meet you here when you get back. Bring your copy of The Weekend Novelist by Robert J. Ray. We will be starting on page 65.
*And…Action*
Keep in mind, all your actions probably won't occur in the same space/scene. You will have to move your characters from kitchen to living room, to car. Unless you are writing a magical story, where they can just "pop" wherever they are going, you need to learn how to smoothly transition your scenes. You are obligated to your readers and yourself, to create a full scene. Not everyone reads the details of describing a room, but you need that to know where your characters are and where they are going. We are about to jump feet first into learning the skills for writing scenes for our chapters.
Reasons to Write Scenes
Drama, baby, drama. Drama occurs in different settings. Drama is what propels your storyline. It is the gas in the car. We have surface action, but we also have something called subtext. Subtext is that action taking place below the scenes. So, subtext is the little things like, gritting of teeth, sighing into a smile, clenching of the fist, and so much more. It is a layer below the text. When you read a well-structured novel, you can feel remnants of past scenes and foreshadowing of those to come. You, as the reader, can see yourself standing in the scene with the characters.
Rhythm in Your Novel
Rhythm is a heartbeat. A marching step. A movement in time. Repetition is a good way to promote rhythm. We talked about repetition earlier as a way to carry ideas throughout your storyline. It can be a color, item, vision or sound. Let's look at the world around us. Right now is a great time. We are transitioning from Winter into Spring and you can see it. You can watch it. Each day has a rhythm. The sun slowly rises and slowly sets. There is a rhythm in how it works. Each day the flowers reach up toward the sky until they eventually open. If you stretch out an entire year and pay attention to movement and rhythm you can watch those flowers bud and grow and fade and die.
Take a step back and look at your story and feel the rhythm. Look at it on a wide screen. See where it was and where it should be. Feel the movement you already created and drive it forward with a steady beat. You don't jump from page 1 and have your climax on page 2. You could, it would just be a really, really short story. One tactic is to open your story and close it on scenes that echo themselves in the final chapter. You can write them at the same time, so you know where your plot is going. Or not- it's up to you.
Strong scenes control all the turning points in your book. The twists and turns, but so are the quiet moments. These are the moments when your reader can get to know your characters further.
Look, I know this post seems to be bouncing around like a dozen balls in a tiny room, but this is just a look into what is coming.
My brain is running in circles right now, so I am going to go and refill my cuppa and stare off into space.
Tomorrow we will pick it up where I have just dropped this bouncy ball.
DO YOU NEED SOMETHING NEW TO READ? CLICK THE LINKS BELOW AND SUPPORT ME IN MY CRAZY DREAMS.
I am thankful for all I have in life
but will never stop reaching for MORE.
My imagination is the roadmap to
where I want to be and how to get there.
Please remember that I am not trying to write this book for you word for word. I am skipping a lot of detail. I highly suggest you purchase the book and read between the lines.
Polish your sparkle and keep twirling.
Find joy. Be joy. Enjoy.
I'm always looking for new friends!
Like Follow Share
Twitter: https://twitter.com/TiciaRani
Twitter: https://twitter.com/WarrentNella
Facebook: https://www.facebook.com/Nella-Warrent-1863744137235991/?ref=bookmarks
LinkedIn: https://www.linkedin.com/in/ticia-metheney-22181476/
Amazon: https://www.amazon.com/B-TCH-UARY-Ticia-Rani-ebook/dp/B07NCG46BX/ref=sr_1_1?keywords=ticia+rani&qid=1573745735&sr=8-1
Instagram: https://www.instagram.com/nellawarrent/
Goodreads: https://www.goodreads.com/author/show/18848350.Ticia_Rani
Universal Code for O-B*tch-uary: https://books2read.com/u/bOZe8o
Universal Code for Sin Full: http://books2read.com/u/m2Vdqd
Amazon: https://www.amazon.com/Sin-Full-Nella-Warrent/dp/B0858V1PY2/ref=sr_1_fkmr0_2?keywords=sinful+nella+warrent&qid=1583163265&sr=8-2-fkmr0
Author Page: amazon.com/author/nellawarrent
#AmReading #BookLovers #Bibliophile #BookAddict #EBooks #LitFict #GoodReads #Fiction #WomensFiction #WhatToRead #bookstagram #Books #BookAddict #BookClub #BookNerd #BookPorn #Comedy #Family #Tragedy #Creativity #HeartbreakinglyHysterical #BookMarketing #SelfPub #AmWriting #WritersLife #urbanfantasy #instaauthor