The build up to the final crash can be overwhelming. It can feel like a daunting amount of work. The thought and planning for goals, obstacles, opposition, struggles and the Golden Carrot is time-consuming. I'm tired just describing it. I love how Libbie Hawker points out the obvious in her book, Take Off Your Pants! Now, you have to see it is worth all the effort you put in. When you put your work in now, during the outlining stage, you can save some stress, brain cells, and fists full of hair. Effort now will create a tighter story later. It's easy to feel overwhelmed. Look, I get overwhelmed writing my grocery list. I hate having to make multiple trips cuz I didn't do it right in the beginning. How does this relate? If you get the details down NOW you don't have to panic and ponder how it will all work out in the end. This prevents rewrites (multiple trips to the store). Ta Da! I am awesome! Wooo…Superstar!
You love my humor. Admit it. No, really. You can tell me. How are you liking the book? We are 80+% through and are in need of a new book soon. Check out the books below and share your thoughts. I have several votes but no one book is standing out. If none of the books below light your fire, then let me know what you want to see. I will need time to get my hands on it. Cool? Cool. Speaking of, my hot apple cider ain't hot. Gonna run and nuke it and grab a handful of cashews. Yes, I like nuts. They be yummy. What's in your cuppa? Did you get a nibble? Where's your copy of our book? Come on people. Let's be prepared next time. ***Sips cider and burns tongue cuz it's too hot. *** Did you chuckle? You're welcome.
I am reading along with an ice cube on my tongue which makes typing interesting. Argh!
Tight and compelling. Get your noggin out of the gutter. Geesh. This is the goal of our story. If you have a strong story you can keep your reader interested even if your dialogue sucks and your writing is, well, crappy. ß Don't test this. Please. It is all about being confident in your story. Make your pace move your MC into events that will lead to the "squeeze" moments, shoving your MC to the climax at the end of your inverted triangle. Clear? No? Me neither. The premise here is, create a strong outline that moves your plot from beginning, middle, and a strong end. It's all about the prep work. Not only will this build your confidence it will allow you to fly through the writing process.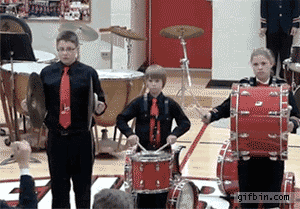 Now our lovely Ms. Hawker is full of nifty tricks. She is offering us another pace-building phase. Bum-bum-buuuuum. How do we make in-scene goals feel important without stomping all over the Golden Carrot? She explains in this process we should focus on the mini climax. That is the point where your tale converges on the triangle's point. We are needing to focus on the funnel from one chapter to the next. Ms. Hawker refers to these as cymbal crashes. In an orchestra or band, the cymbal represents a big moment in the show. The height of tension is where this works best.
As you are filling in your preliminary outline, add some in-chapter goals and conflicts. (Milk run then flat tire.) Make sure you have a cymbal crash at the end. (The love interest you are chasing shows up with milk AND helps fix the tire.) Now, if the chapter ends bland or dull, it is time to do a little rethinking. Cymbal crashes can be subtle. They don't have to be so brutal it vibrates your head. These crashes can end in a gasp rather than a car wreck. Give your reader a thrill. Whether it is a tiny gasp, or a hulking crash is up to the scene you have created.
Please remember that I am not trying to write this book for you word for word. I am skipping a lot of detail. I highly suggest you purchase the book and read between the lines.
Polish your sparkle and keep twirling.
Find joy. Be joy. Enjoy.
I'm always looking for new friends!
Like Follow Share
Twitter: https://twitter.com/TiciaRani
Twitter: https://twitter.com/WarrentNella
Facebook: https://www.facebook.com/Nella-Warrent-1863744137235991/?ref=bookmarks
LinkedIn: https://www.linkedin.com/in/ticia-metheney-22181476/
Amazon: https://www.amazon.com/B-TCH-UARY-Ticia-Rani-ebook/dp/B07NCG46BX/ref=sr_1_1?keywords=ticia+rani&qid=1573745735&sr=8-1
Instagram: https://www.instagram.com/nellawarrent/
Goodreads: https://www.goodreads.com/author/show/18848350.Ticia_Rani
Universal Code: https://books2read.com/u/bOZe8o
#AmReading #BookLovers #Bibliophile #BookAddict #EBooks #LitFict #GoodReads #Fiction #WomensFiction #WhatToRead #bookstagram #Books #BookAddict #BookClub #BookNerd #BookPorn #Comedy #Family #Tragedy #Creativity #HeartbreakinglyHysterical #BookMarketing #SelfPub #AmWriting #WritersLife #urbanfantasy #instaauthor